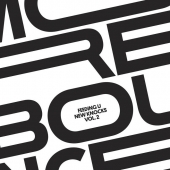 Various Artists
Feeding U Knocks Vol. 2
Label: Wicked Wax Music
Genre: Freestyle / Nu Jazz / Funk / Afro
In June 2016 MORE BOUNCE started as a monthly party in Amsterdam that focusses on Modern/Future Funk, 70's/80's Boogie Funk and more.
From there they've grown into a platform for today's Funk-scene where they invited people like MXXWLL, Onra, Pomrad, Trian Kayhatu, Butufunk, Sven Atterton, Mofak, Devin Morrison and others to perform live-shows at their nights.

Feeding U New Knocks Vol.2 is the second compilation in a series with the aim of shedding more light on this thriving movement.
We would like to thank all the amazing artists that contributed their magic to this compilation!