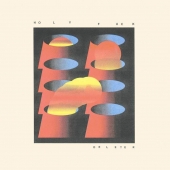 Holy Fuck
Deleter
Label: Holy F.
Genre: Post Rock / Avant Rock
Availability
LP €19.99

Dispatched within 5-10 working days
Other Formats
Arriving at a moment where attention spans are shot and anxieties are going into overdrive, 'Deleter', Holy Fuck's fifth studio LP, is a defiantly full-bodied affair. Polyrhythmic and pleasure- focused, 'Deleter' sees Brian Borcherdt, Graham Walsh, Matt Schulz, and Matt "Punchy" McQuaid utilises their signature sound - seamlessly fusing the gauzy drive of krautrock and deep house's dreamy ineffability, expertly blending purring motorik percussion with the sort of fuggy synthetic fizz and tang they are renowned for.

From the thrusting minimalism of opener 'Luxe' through to the triumphant chug of closing track 'Ruby', via club-ready rollocker 'Free Gloss' and the cosmic clatter of 'San Sebastian', Deleter is a record that joins the Holy Fuck dots within their widescreen, technicolour, crescendo- heavy sound.