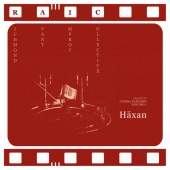 Raic
Haxan ( Cinema Paradiso Volume I )
Label: Thirsty Leaves Music
Genre: Post Rock / Avant Rock
The first volume in a series of live, improvisational & spontaneous scores to silent and obscure movies by the ever morphing RAIC (aka the Richmond Avant Improv Collective), who settled on an 8 piece ensemble for this recording...
credits
released December 13, 2019

Samuel Goff - Drums, Percussion, Vocals, Keyboards, Electronics
Abdul Hakim-Bilal - Guitar
Erik Schroeder - Alto Saxophone, Percussion, Keyboards, Sampler, Theremin, Electronics, Flute, Woodwinds
Zoe Olivia Kinney - Cello, Vocals
Laura Marina - Vocals, Keyboards, Electronics
Jimmy Ghaphery - Sopranino Saxophone, Flute, Alto Saxophone
John Priestley - Bass
Cary Ralston - Vibes, Percussion

All tracks recorded spontaneously live along with the movie, with no overdubs on the first take, on March 3, 2018 at Etching Tin Studios.
Produced by Samuel Goff.
Mixed and mastered (April 2018 - February 2019) by Richard Schellenberg.