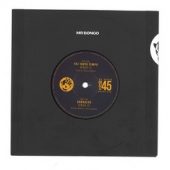 Lu Renata
Faz Tanto Tempo / Sambaloo
Label: Mr Bongo
Genre: Freestyle / Nu Jazz / Funk / Afro
Availability
7" €13.49

Dispatched within 5-10 working days
These amazing Brazilian soul-funk nuggets from Renata Lú, originally appeared on a 7" compacto and on her self-titled debut album for Copacabana Records in 1971.

The up tempo break-beat funk of 'Faz Tanto Tempo' has a real dance-floor cross-over appeal and should please Brazilian, funk, hip-hop breaks heads and mod-soul DJ's & collectors alike.

Renata Lú had a long career releasing records on labels such as Compacaban / CID & Continental through out the 70's and 80's and worked as backing vocalist on recordings by Tim Maia and Nonato Buzar.