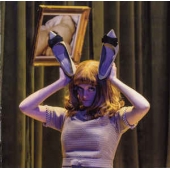 Reininger Blaine L.
Commissions 2
Label: Les Disques Du Crepuscule
Genre: Soundtrack
Commissions 2 is a brand new collection of soundtrack recordings by Blaine L. Reininger, the Colorado-born composer and founder member of avant-garde music group Tuxedomoon. It sits as a sequel to his previous soundtrack anthology, Commissions, issued by Crepuscule in 2014.

Written and recorded between 2015 and 2019, the instrumental selections on Commissions 2 are drawn from six European theatre and dance productions including Angels, Caligula, Picnic With the Devil (aka The Master and Margarita), Reigen, The Kindly Ones and Who's Afraid of Virginia Woolf?

"Since 2015," explains Blaine. "I have played a ukulele-wielding Satan in The Master and Margarita, been a one-man band to accompany Caligula's evil antics six times a week, and - most recently - played and sung at sunset with a ten-piece choir before the very wall of the Mauthausen concentration camp in Austria."

The arresting cover image (from Who's Afraid of Virginia Woolf) is by Elina Giounanli.