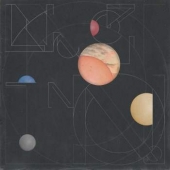 Hauschildt Steve
Nonlin
Label: Ghostly International
Genre: Electronica / Ambient / Experimental
Availability
LP €21.99

Dispatched within 5-10 working days
Nonlin finds Hauschildt evolving his palette of tools, integrating modular and granular synthesis. The improvisatory and generative nature of modular systems, when paired with his signature grid-oriented and hand-played techniques, guides these compositions slightly out of line to hypnotic effect. Opener "Cloudloss" permeates the mix with an unsettling smog, which reappears and all but engulfs "A Planet Left Behind." On cuts like "Attractor B" and "Subtractive Skies," pockets of air rest between sequenced pulses, whose crumpling and flattening folds build into a restrained rapture of crisp frequencies and milky reverb-swallowed coruscations.

The album's title track and centerpiece logs on to a foreign network, a fractured percussion signal that modulates and stutters into static amidst curious melodic sparkling in the hazy bandwidth. "Reverse Culture Music" casts an elegant and brooding stream of strings, pizzicato and churning bow from Chicago cellist Lia Kohl, against chiming minimalist synth frameworks. A surprising pattern emerges in the taciturn systems at work. Hauschildt continues to expand his already horizon-wide repertoire, here exploring the effects of corrupting coordinates; a flight subject to the collapsable abilities of time in remote spaces, a smearing of the axis to elegiac ends.


Limited edition colored vinyl. Die-cut cover.