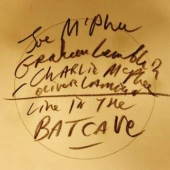 Mcphee Joe / Mcphee Charlie / Lambkin Graham / Lambkin Oliver
Live In The Batcave
Label: Black Truffle Records
Genre: Jazz / Avant Garde
Availability
LP €29.99

Dispatched within 5-10 working days
Presented in a gatefold sleeve with extensive photographic documentation and liner notes from Joe McPhee, Live in the Batcave is a truly unique document that exists somewhere between free jazz, audio verité, performance art, and everyday life. File next to your copy of Das Kümmerling Trio.

The LP documents an evening Graham Lambkin and Joe McPhee spent together in the company of Joe's brother Charlie and Lambkin's son Oliver in November 2017 at Charlie's house in Poughkeepsie.

The LP captures seven increasingly drunken snapshots of the four shooting the breeze, playing flutes and whistles, drumming on anything at hand, and playing records.

Edited together in Lambkin's distinctive style of lo-fi domestic tape collage, the multiple simultaneous cassette recordings of the shenanigans abruptly cut in and out and fall out of sync, creating disorientating, woozy echoes.

Mastered and cut by Rashad Becker at D&M, Berlin. Liner notes by Joe McPhee. LP artwork & design by Graham Lambkin. Layout by Lasse Marhaug.