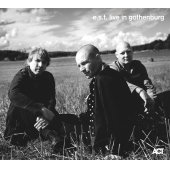 E.s.t.
Live In Gothenburg
Label: Act
Genre: Jazz / Avant Garde
Availability
CD x2 Digi / Cardboard €23.99

In Stock
Other Formats
A concert for the ages: The release of "e.s.t. live in Gothenburg" brings listeners the previously unreleased recording of a concert to which Esbjörn Svensson (d.2008) referred in his lifetime as one of the best that his trio ever did. In this 2001 recording, e.s.t. played tracks from the albums "From Gagarin´s Point of View" and "Good Morning Susie Soho". There is even one track, "Bowling", which has never been released on CD before. "e.s.t. live in Gothenburg" documents the enduring magic of this band. We find originality, strength and playfulness coalescing together in an ideal way here.