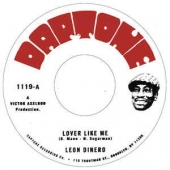 Dinero Leon / Inversions
Lover Like Me / Conscience Is Heavy
Label: Daptone
Genre: Freestyle / Nu Jazz / Funk / Afro
Availability
7" €9.49

Dispatched within 5-10 working days
Old time something come back again! Victor Axelrod at the controls, taking an early Daptone classic from the Lee Fields & Sugarman 3 repertoire into the world of 60s ska – featuring a new singer we think everyone will be talking about once they hear this simply because... this man is on FIRE! We present to you Leon Dinero. Some might recognize the flash of his gold tooth glimmering in the dark dances between Jamaica and Brooklyn and now we have him on record with more to come!

The vocal "Lover Like Me," snake-charms you into what could easily fool some to be an unreleased Alton Ellis cut that was long lost in Prince Buster's tapes. Leon gives nods to Lee's original vocals while taking the vibes to another island.

The flip "Conscience is Heavy," has The Inversions capturing the powerful Blue Beat kick-drum punch and organ bubble that is sure to keep a dancefloor shuffling and the know-it-alls guessing.