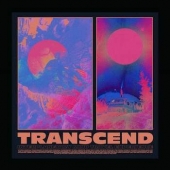 Dream Division
Transcend
Label: Polytechnic Youth
Genre: Electronica / Ambient / Experimental
The project of London based Tom McDowell, the album is incredible; whacked out trippy Carpenter-esque VHS horror soundbites culminating with what Tom himself describes as some "Kubrick themed nightmare". A mind frying collision of 80s sci-fi B movies, kosmische grooves and psychedelic electronics….

Tom says "the basic idea behind 'Transcend' goes something like this; what if you could set up a civilisation on another world and transfer your consciousness between worlds? Like 'Interplanetary Mind Travel' but then what would happen if between the journey something went wrong and your conciseness was lost and released into the universe...?! A driving force for this record was getting my hands on a Roland Sh-101 and pushing that through a ton of effects pedals, whilst pairing it with my Juno 6".

An incredibly rich, forward thinking record, released as a pressing of 300 on vinyl through Polytechnic Youth, with a simultaneous cassette release via Tom himself, private press style….