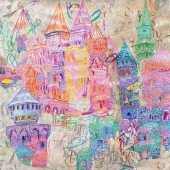 Lightning Bolt
Sonic Citadel
Label: Thrill Jockey
Genre: Post Rock / Avant Rock
Availability
LP x2 +MP3 COUPON €27.99

Out of Stock
For their seventh full length, 'Sonic Citadel', Brians Gibson and Chippendale have done the daring, stripping away some of the distortion mask to reveal the naked pop forms as never before.

Throughout their 25-year history Lightning Bolt have toured the world, performing at Coachella, ATP, Festivals, Pitchfork Music Festival, Austin Psych Fest and FYF Fest, to name a few.

Brian Chippendale has collaborated with Björk, Boredoms, Andrew W.K. and Lee 'Scratch' Perry. Brian's comics are published with Drawn & Quarterly and Picturebox. Brian is also in Black Pus.

Brian Gibson's game Thumper, produced by his own company Drool, was awarded the 2019 Apple Design Award, was on Gamespot, Hardcore Gamer and IDN's Best Of 2016 lists and won countless other awards.

2LP pressed on virgin vinyl packaged in a deluxe gatefold jacket and housed in printed inner sleeves with free digital download card. All artwork has been created by Brian Chippendale.