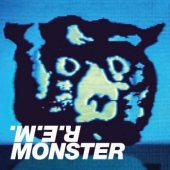 R.e.m.
Monster - 25th Anniversary Edition
Label: Craft Recordings
Genre: Rock / Pop
Availability
LP x2 €28.99

Dispatched within 5-10 working days
R.E.M.'s ninth album, Monster, was released at a time when the band were coming off the peak of their mainstream success, following Out of Time (1991) and Automatic For The People (1992). Coming from a long break in touring (the band famously didn't tour with the two previous records), Monster represented an intentional shift in R.E.M.'s sound, a "return to rock" with guitar laden, simple arrangements. It was released to strong reviews and significant global success – reaching #1 on Billboard, and least 7 other countries. The album includes the singles; "What's The Frequency, Kenneth?," "Crush with Eyeliner," "Bang and Blame," and "Strange Currencies." In 1995 the band promoted that album with their first concert tour since 1989 (although several band members suffered health problems).

Includes the original album remastered + 2019 remixed album.