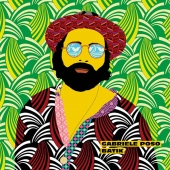 Poso Gabrile
Batik
Label: Soundway
Genre: Freestyle / Nu Jazz / Funk / Afro
Availability
LP €20.99

Dispatched within 5-10 working days
Future Afro-Latin jazz house from Italian master percussionist, multi-instrumentalist and composer Gabriele Poso. The entirely self-produced album features guest vocalists Nailah Porter, Nina Rodriguez, Quetzal Guerrero & Sofia Rollo.

Following a long-term collaborative partnership with Osunlade / Yoruba Records, as well as albums on BBE and Agogo Records, on 'Batik' Poso further develops and matures his sound - exploring his extensive roots in Afro-Cuban percussion, while delving into the realms of jazz and soulful house.

With mixing by renowned Spanish DJ and producer Kiko Navarro, the lead single "Africa Linda" is an up tempo live take on Latin house, featuring American-born soul singer Quetzal Guerrero on vocals.

Much of the album features Poso on not only vocals but many of the instruments - including percussion, guitar and kalimba. A true multi-instrumentalist, Poso found a particular affinity for percussion at a young age, studying in Puerto Rico and Cuba.

In 2008, Poso released his first solo album entitled "From The Genuine World", produced for Osunlade's label, Yoruba Records. He went on to release another 3 albums, with labels including BBE Music - garnering acclaim from reviewers and selectors including Gilles Peterson, as well as awards including "Roots Of Soul" winning Best Jazz Independent Production in 2012 (Germany).