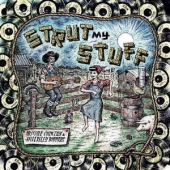 Various Artists
Strut My Stuff
Label: Modern Harmonic
Genre: 60s / 70s Rock / Pop / Progressive / Kraut
Availability
LP x2 €36.99

Dispatched within 5-10 working days
For every successful hit act that cracked the charts in the early 50s to mid 60s, there were thousands of obscure artists exhibiting genuine country numbers free from mainstream oversight. Strut My Stuff rounds up such enigmas as the hectic hillbilly bopper "You've Been Honky Tonkin'," the shotgun-wedding scenario of "My Inlaws Made An Outlaw Out Of Me," and many more farm-raised rarities!

Country music in the 1950s was a growing market that major labels could not ignore. What was once considered a small sector alongside "race music," moved into the mainstream with the success of artists like Eddy Arnold (RCA), Hank Williams (MGM), and a later crop emerging in the mid '50s such as Faron Young (Capitol), Webb Pierce (Decca), and many more. This first wave of artists was a goldmine; they were often covered by major pop names, bringing in extra money on publishing and radio play.

There were thousands of non-hit artists who could only dream of a Capitol or RCA contract being handed to them. So they did the best they could, signing to small independents or even ordering a custom pressing (a service many pressing plants offered where you could send the master recordings, pick a label name, font, and a single color label, and the records would arrive in the mail, kind of like a self-published book) to sell at shows, or to hand to the local radio station in the hope of a local hit. Some of the larger independents would sign an artist but may take publishing credits as part of the deal. This often led to a low reward for the artist, but many were just eager to hold a record of their own.

The quality of this vast landscape of artists who flew under the radar ranged from no hope amateurs to near perfect performers. Without a contract or record executives breathing down their necks, these artists were free to put out an authentic representation to what they were actually performing in various honky tonks or small theaters across the states. This painted a wonderful version of the true nature of what country fans were hearing from their local country music scenes.

Collected here is a cross section of this field. Some of the artists went on to enjoy further success, others gave away or threw out the remaining copies of their records and headed back to the farm, factory, or day job. Here, over half a century later, we open the barn doors, dust off those forgotten platters, bring them to you to play loud and Strut Your Stuff!

Transparent green vinyl.