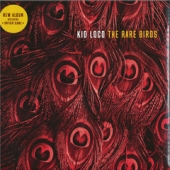 Kid Loco
The Rare Birds
Label: Wagram
Genre: Freestyle / Nu Jazz / Funk / Afro
Availability
CD Digi / Cardboard €17.49

Dispatched within 5-10 working days
Over the years Kid Loco has become a reference in the French electronic music landscape. Firstly, known for being an activist in the French underground music scene, he cofounded Bondage Records in 1982. With Bondage Records, he introduced several bands to the French alternative music scene like Bérurier Noir, Ludwig Von 88 or Washington Dead Cats. Alongside his activity of label manager, he composed and released under the name of Kid Bravo, an experimental music at the crossroads of rock and electronic. Astonished by the beginnings of the instrumental hip-hop of DJ Shadows, Jean-Yves Prieur aka Kid Loco experimented new ways of composing music with the sample technic in his own studio near Orly. This new musical adventure led to the birth of a mini album Blues Project released in 1996 on Yellow Productions.

Exploring further his own psychedelic universe, he released his first album A Grand Love Story in 1997 under the name of Kid Loco. Acclaimed both by the French and international music review, "A Grand Love Story" established itself as an iconic album of the trip-hop and electronic music scene. During the two years following its release, Kid Loco continued to invent his own musical universe nurtured by multiples influences. In 1999, he released Jesus Life For Children Under 12 Inches, an album featuring thirty remixes he composed for French and international artists (Pulp, Talvin Singh etc.) as well as his mixed compilation for the famous DJ KICKS collection released on the German electronic music label, !K7.

After a first European tour, Kid Loco returned to his studio, nicknamed "The Lafayette Velvet Basement" and composed his second album Kill Your Darlings released in 2001. Compared to his previous compositions, Kill Your Darlings features more tracks without sampled vocals. Eager to explore new musical horizons, Kid Loco produced in 2004 the original soundtrack of the American movie The Graffiti Artist directed by James Bolton (Narrative Feature Sound Award – Austin Film Festival 2003). Cruising to new musical galaxies, Kid Loco continued to compose and released the album Party Animals & Disco Biscuits in 2009 followed in 2011 by the album Confessions Of A Belladonna Eater. In addition of his albums, Kid Loco continued to experiment with the production of compilations celebrating the trip-hop music with "Trip-Hop Classics" released in 2010 followed by a second opus released in 2013 on Wagram Music.

2019 marks the return of Kid Loco with his track Here Comes The Munchies selected in the original soundtrack of the show Vernon Subutex (Canal +), the vinyl reedition of his cult album A Grand Love Story and for the first time the digital release of the album Confessions Of A Belladonna Eater with exclusive remixes.