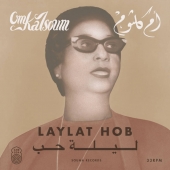 Kalsoum Om
Laylet Hob
Label: Souma Records
Genre: World Music
Availability
LP €20.99

Dispatched within 5-10 working days
High Quality pressing in vintage inside out-sleeve. Printed inner sleeve with liner notes.

Laylet Hob - Another meeting in the clouds

Mohamed Abdel Wahab wrote another big score for Om Kalsoum in 1972. In "Laylet Hob" (A Night of Love) we hear Arabic music and poetry in perfect symbiosis. The rich and lengthy instrumental intro is just a precursor of the emotion present in this song. The talent of the composer is underlined by how he utilizes the traditional style of singing poetry in a more open and creative way. Abdel Wahab's infusing of long and groovy interludes with varied tonality, rhythmical patterns and an overall unique approach, carries Om Kalsoum's powerful voice and brings the song to an incredible climax. In this way, he gives more colour and depth to the music and the skilled soloists in the orchestra are finally able to breathe. Sensual rhythms, breaks and breathtaking solos of accordion, guitar (Omar Khorshid), violin and organ (Hany Mehanna), have ensured this song is an all-time classic for belly dance routines.


Souma Records thought it was time to re-release this monument on a high quality vinyl format, together with a repress of "Enta Omri", another classic song by Souma.