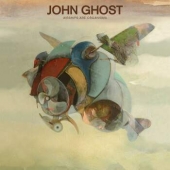 Ghost John
Airships Are Organisms
Label: Sdban Ultra
Genre: Jazz / Avant Garde
Availability
LP €22.99

Dispatched within 5-10 working days
John Ghost is ingenious and exploratory, often described as a symbiosis between the sounds of Steve Reich, John Hollenbeck, Nils Frahm and Jaga Jazzist.
Created around the Ghent guitarist and composer Jo De Geest, the Belgian sextet draw on influences from jazz, rock and post-classical music, where minimalism, electronics and a cinematic atmosphere characterize their instrumental music.

New album 'Airships Are Organisms', was produced by Jørgen Træen (Jaga Jazzist, Kaizers Orchestra, Hubro, Sondre Lerche).

When it came to recording the album, John Ghost searched for a balance between the venturous, accessible and playful character of jazz music, in which John Ghost has its origins, and a carefully thought out selection process with the production, with a sharp eye and ear for detail. Seemingly simple earwigs are underpinned by driving undertones that inspire harmonic twists and a rhythmic and melodic stratification, that often results in a very danceable soundtrack.
Tracks like 13-minute album opener 'Deconstructing Hymns', keep a fine balance between moments of abstraction and repetition while recent single 'Disfunctional Rabbits: The Disfunction' is an intoxicating, dreamy soundscape that alternates between balanced jazz fluctuations and space-like grooves.

Elsewhere, the idiosyncratic 'The Fallen Colony', spirals into a progressive narrative of experimentation and improvisation, a common thread throughout large parts of John Ghost's music, before the haunting 'Drones For a Sunken Mothership', combines soaring bowed melodies and broken beats that is not only mesmeric but filled with breathtaking majesty.
Formed in 2010, John Ghost were nominated for the 'Young Jazz Talent' Award at the prestigious Gent Jazz Festival the same year, and a series of shows followed including the International Jazz Festival Middelburg, in the Netherlands.
After a brief hiatus, they released their 2016 album 'For A Year They Slept', to critical acclaim across Belgium, and they have been busy in the studio once again, developing and honing their sound.