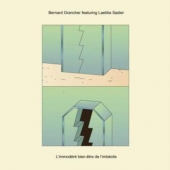 Grancher Bernard / Sadier Laetitia
L'immodere Bien-etre De L'imbecile
Label: Polytechnic Youth
Genre: Electronica / Ambient / Experimental
A new Polytechnic Youth release hits the shelves early this September, and not only is it an absolute gem, but it's also mercifully released as a much wider scale pressing than some of the label's previous lathe cut 45s!

French synth maestro Bernard Grancher first graced PY with a track for it's much admired "Popcorn Lung" collection, before following that up with the fabulous "Troublante Tournure" LP in February, (selling out within a week, as did previous releases on Err Rec in France) and has since been working on a steady stream of new material.
These included an on-off project with his friend Yan Hart-Lemonnier, that began in 2017; the demos for which almost surprised themselves with their poppy orientation and direction. One of Bernard's friends (the fantastic Emmanuel Mario, aka 'Astrobal') is a member of the 'Laetitia Sadier Source Ensemble' and he agreed to ask Laetitita whether she could supply vocals for his friend's track. Thankfully she accepted and the single was born. The B side features a killer remix by another PY favourite, Toronto's great Gabe Knox- who cites his mix here as the best he's done so far.

A fabulous 45, (dressed in wonderful Yan Hart-Lemmonier sleeve art) that is destined to sell out in super quick fashion. Despite becoming a sadly decreasing format, the 7" single single still reigns supreme with PY. This one precedes (at the tail end of the year) a trio of simultaneously released 45s with Dream Division, Gabe Knox and Ed Dowie. This one will more than do for starters….