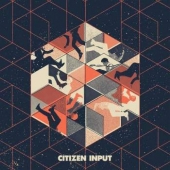 Tomorrow Syndicate
Citizen Input
Label: Polytechnic Youth
Genre: Electronica / Ambient / Experimental
Second up for July's fab new PY brace, is the proverbial "eagerly anticipated follow up" to the great and hugely well received "Future Tense" LP from TOMORROW SYNDICATE in 2018. Selling out almost instantaneously and attaining universally rave reviews and a ton of 6music radio plays, it could be argued that the LP represents PY's biggest "hit" to date.

Barring a couple of smaller pressing 45s, "Citizen Input" represents the bands' follow up proper and more than lives up to the incredibly high standards "Future Tense" showcased- and in turn builds interest keenly for the second full length in 2020.

"Citizen Input" finds the Glasgow based 'sci-fi music collective' breaking free from the confines of their home recording set up. Now with a firmly established, expanded line up, the band set out to capture a more robust, energetic, fully realized live sound with local Italian producer Luigi Pasquini.

The 10" is underpinned by a series of mesmeric Moog grooves and propulsive Dinger-esque motorik beats. Waves of synth-driven turbulence, sampled hypnotic spoken word passages and lucid, often bittersweet melodies aim to transfix and bewilder the listener.

The band cite heavy rotation from the likes of Michael Rother, Beak, Pye Corner Audio, John Carpenter and perhaps surprisingly, The Teardrop Explodes as the EP was in creative stages…..

Clocking in at the maximum 23 minutes allowed for 10" wax, the mini album utilises every waking moment it exists on your turntable!

Dressed in another fabulous Nick Taylor designed sleeve, the EP builds steadily upon the buzz and following that TS are creating for themselves. Live dates in support are being planned, but meanwhile "Citizen Input" is another wonderful release, guaranteed to follow in the path of both label and artists' back catalogue and sell out in super quick fashion….