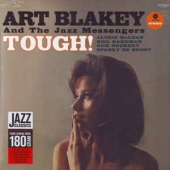 Blakey Art & The Jazz Messengers
Tough!
Label: Spiral
Genre: Jazz / Avant Garde
Availability
LP 180gr €11.99 Nice Price

Out of Stock
Reissued 1966 album, the formation heard here marks the second incarnation of Art Blakey's Jazz Messengers. Apart from the individual talents of each member, the group formed a compact unit with a cohesive sound. Featuring 'Scotch Blues', 'Flight To Jordu', Transfiguration', 'Exhibit A', one Gershwin medleys and one Gershwin medley as bonus.