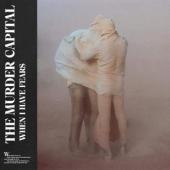 Murder Capital
When I Have Fears
Label: Human Season Records
Genre: Rock / Pop
Availability
CD Digi / Cardboard €15.99

Out of Stock
Called out by The Irish Times as "Ireland's best new rock band" and named as an one of NME's "100 Essential New Artists for 2019," When I Have Fears is the debut album from Dublin, Ireland's The Murder Capital.

Produced by Flood (PJ Harvey, New Order, Foals) the album features both singles from the band so far, "Feeling Fades" and "Green & Blue", as well as the first studio recording of breakthrough track "More Is Less".

An exercise in both darkness and light, "When I Have Fears" only serves to highlight the early ambition in the band's sound. From the post-rock build and breakdowns of the two-part "Slowdance", to the tender, bruised confessional of "On Twisted Ground" and industrial pulse of closer "Love, Love, Love", there's a consistent intensity throughout that marks out The Murder Capital as a band arriving fully formed on their debut album.