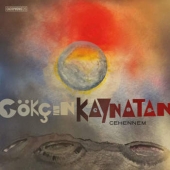 Kaynatan Gokcen
Cehennem
Label: Cacophonic / Finders Keepers
Genre: 60s / 70s Rock / Pop / Progressive / Kraut
Availability
LP €24.49

Dispatched within 5-10 working days
A key figure during the birth of Turkish rock and roll, a founding father of Anatolian rock and the studio brains behind the first Turkish electronic pop records, Gökçen Kaynatan's influence runs like the lifeblood through Turkish pop and rock. Having shunned the recording industry early in his career he remained a driving force behind the scenes and on TV screens, spearheading the explosion of synth technology in Turkish music with his pioneering use of the EMS Synthi AKS, the fruits of which would only be shared on stage, never to be repeated television broadcasts and in archival recordings that haven't seen the light of day, until now.

A first-ever collection of the highly sought after and largely previously unheard EMS Synthi AKS recordings of the one of Turkish pop and rock's best kept secrets.

Featuring two of Gökçen's earliest synthesiser compositions and an updated recording made whilst recovering from brain surgery.

Compiled with unparalleled access to Gökçen Kaynatan's private studio vault and mastered from the original quarter inch studio tapes with full cooperation from the man himself.