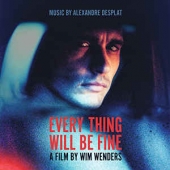 Desplat Alexandre
Every Thing Will Be Fine
Label: Wenders Music
Genre: Soundtrack
Availability
CD €13.99

Dispatched within 5-10 working days
This is the original score music by ALEXANDRE DESPLAT to the film EVERY THING WILL BE FINE by WIM WENDERS.

Together with the GÖTEBORGS SYMFONIKER (Gothenburg Symphony Orchestra) Alexandre Desplat recorded the score music for Wim Wenders' last feature film in February 2015. It is a unique orchestral work, conveying the emotional journey of the film's protagonists. The perfectly arranged motifs and themes of the recordings gives the listener the opportunity to feel that journey and see images with closed eyes.

Even if you had not seen the film, the subtle arrangement of the music and the orchestra's superb performance makes the score's music a unique experience. The 20 instrumental tracks are a true work of contemporary classical film music. Either for classic aficionados or background music, this album has it all – written, composed and performed by some of the best artists in their field today.

The Soundtrack compiles 20 Tracks with all themes from the film.

The Film was premiered at Berlinale (Berlin Film Festival) in February 2015 and released in Belgium, Bosnia & Herzegowina, Canada, Croatia, France, Germany, Greece, Holland, Italy, Norway, Portugal, Slovenia, South Africa, Spain, Sweden, Taiwan, USA.