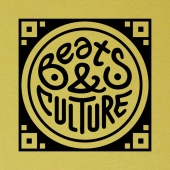 Spy From Cairo / Thunderball / Invisible Sounds
Nafas / Enter The Brahmin / Common Path
Label: Melting Records
Genre: Freestyle / Nu Jazz / Funk / Afro
Now it's here – the 3rd installment of the Beats & Culture releases, a collaboration between Melting Records and the BNC YouTube channel. For the first time, we upgrade to a 12" vinyl to pack more pungent flavor and kick: a foundation of hip-hop and dub reggae, with hints of funk and trip hop and notes of the exotic. The vinyl is colored herbal green. Side A features The Spy from Cairo (Italian origin, Brooklyn based) and Thunderball (Washington,DC), while Side B caries Invisible Sounds (GR) and somehowArt (GR).

Side A opens with "Nafas" (breath in Urdu) by The Spy from Cairo, a smooth dub infused with middle eastern flavors. The decade-old track is inspired by his cat named Tito, resurrected through viral interest on the Beats & Culture channel. It's like "Bob Marley riding a camel", as a top YouTube comment says. The sticky track is followed by the DC-based combo Thunderball with the sitar-tastic "Enter the Brahmin", providing chunky beats with an exotic flair for boom-bap lounging or smoky parties.

Side two debuts Invisible Sounds, delivering the artist's very first release to the Beats & Culture series. "Common Path" is one cut with two flavors. At first it's a hazy trip-hop tune with soothing guitar, deep bass and Ethiopian vocals. The hypnotic song then flips into dub mode, courtesy of dub-master somehowArt. The artist grabs the mix and adds his special spices for a version brilliantly dubbed-out and spacey.

Beats & Culture delivers again with a record primed and ready for the global soundsystems. Big up!