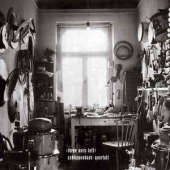 Schlippenbach Quartet
Three Nails Left
Label: Cien Fuegos
Genre: Jazz / Avant Garde
Availability
LP €27.49

Dispatched within 5-10 working days
Evan Parker - soprano & tenor saxophone
Alexander von Schlippenbach - piano
Peter Kowald - double bass
Paul Lovens - percussion

One of the key-figures of european Free Jazz, Alexander van Schlippenbach, with the debut recording of his legendeary quartett.
Schlippenbach was featured in The Wire in June 2019

This album was originally released on FMP in 1975. Remastered for vinyl by Martin Siewert in 2019. Design by Paul Lovens,

side A: recorded live at 3rd Jazz Festival Moers June 2nd, 1974 by Michael Krause
side B: recorded live at the Quartier Latin Berlin, February 2nd, 1975 by Jost Gebers with the FMP Mobile Recording Unit. Produced by Jost Gebers.