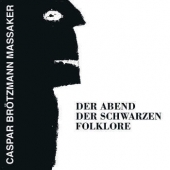 Brotzmann Caspar Massaker
Der Abend Der Schwarzen Folklore
Label: Southern Lord
Genre: Industrial / Post Industrial / Experimental
Availability
LP €22.99

Dispatched within 5-10 working days
Southern Lord announce the next Caspar Brötzmann Massaker reissues in the ongoing series, continuing with Der Abend Der Schwarzen Folklore and Koksofen this July. Read on for more insight into these albums, and for information about incoming live dates supporting Sunn O))).

Caspar Brötzmann is one of the most unique and innovative guitarists of the last 40 years. With his Berlin-based trio Massaker, he evolved a whole new autonomous approach to writing rock songs, starting from sounds that were widely considered ornamental if not detrimental 'sonic waste', such as shrieking feedback and droning overtones. This plethora of sounds were arranged into tracks to sound like breaking concrete, grinding metal, or bursting glass, at once monumental and threatening, impenetrable and hermetic, yet also archaically tender and loving.

Even today, as the art of noise has reached a level of sophistication that no one could have imagined 30 years ago, Caspar Brötzmann Massaker's music is resoundingly singular. Ultra heavy riffs and beats, ominous tribal chants and a raw physical force is conjured up by these three sinister and proud minds of their era. Their unhinged, unified stream of energy is captured on these remastered reissues and the results are thrilling.

Originally released in 1992, Der Abend der schwarzen Folklore is the third Massaker album, released by Rough Trade Germany. According to Caspar Brötzmann, the title track and "Bass Totem" are the band's most accomplished songs. It's certainly the most sonicly refined of their albums, recorded during a residency over several weeks at the pastoral site of Conny Plank's studio near Cologne, and produced by Ingo Krauss and Bruno Gebhard, who had worked with the famed Krautrock producer until his death in 1987.

Not least, ...Schwarzen Folklore also features their new drummer Danny Lommen, whom Caspar and bassist Eduardo Delgado had headhunted at a concert with Lommen's Dutch prog-core band Gore. Lommen shared their tastes in sheer volume and presence, and "has a completely unique sound to his drumming", as Caspar marvels, "he plays ultrahard and clear, with authority and no compromise, nothing, not even the most turbulent and speedy beats, sound fuzzy - a statement." This, he adds with a smile, would sometimes lead to intense moods during rehearsals, when he overpowered - no small feat - competing with the sounds of Caspar's guitar.

The Tribe and Black Axis were still if very loosely rooted in some kind of heavy rock. Der Abend der Schwarzen Folklore erases these residues from their genetic make-up - evolving into a free-form noise, strangely motionless like an earthquake rumble, that sounded like nothing else at the time. The opening title song gives the best example with its densely shifting chunk of howling and screaming guitar shreds and grimly determined rumbles from the bass, accented by heavy single beats or massively rattling, yet transparent outbursts from the drums. An impenetrable sense of threat fills the sound, interrupted only by breaks of skinny brooding, giving way to Caspar's throaty growl evoking a lonely march through hostile wastelands under flaming sunsets. Culminating in an archaic choir chanting about black walls rising - a monstrous cloud of thick high-voltage tension.

Caspar speaks of the heavy nature of the lyrics, inspired by 19th century artist Caspar David Friedrich's painting "Das Eismeer" ("The Sea of Ice") which depicts a shipwreck the icy shores of Antarctica. It deals, of course, with ideas of the sublime in nature - but also "the end of hope", as the painting was known until the sixties. And indeed, Caspar credits his dark and brooding sounds to the uneasy times. With the wall down, the Eastern block broken, East and West Germany were politically united but emotionally didn't share much more than a certain angst and uneasiness with respect to the future - which erupted in ugly right-wing riots and violence. Caspar felt the rise of a black folklore that he wanted to address, though he never admitted to it at the time because, he said, he didn't want to sound like "some naive romantic". Not underestimating the music's gothic values - a weird idea, once you've listened to "Schwarze Folklore".