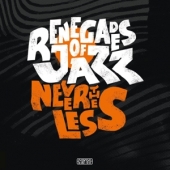 Renegades Of Jazz
Nevertheless
Label: Agogo
Genre: Freestyle / Nu Jazz / Funk / Afro
"One of the finest albums I've heard in a while. Tight, Fela-esque horns, big clubby drums with chunky guitars holding it all together, this record is constantly engaging and is at times reminiscent of Quantic at his best. Can't say fairer than that!"

Adam Gibbons/Lack Of Afro

Were David Hanke to pass on from this mortal coil tomorrow, Nevertheless might prove his perfect epitaph. It's a refreshingly honest and somewhat autobiographical long-player that harks back to his early twenty first century musical influences but actually has its route much earlier in this self-styled Renegade Of Jazz's life.
The album's appellation refers back to Hanke's first live concert experience when in 1984, at the age of six, he went to see a Blues-rock band called Nevertheless whose guitarist was none other than his own father. With music clearly already running through Hanke's D.N.A. this was the moment that, perhaps subconsciously, triggered his life long love affair with soulful sonic creativity.
Nevertheless sparks into action with the irresistibly uplifting Lemon Squeezers, a suitably life affirming opener complete with exhilarating guitars and as the man tells us, "(the) basic characteristic, the beat!" and it's a rock solid beat at that. With some Renegades Of Jazz trademark horns added for extra spice, and of course everything programmed by Mr Hanke himself, this is the perfect introduction to this man's scintillating style.