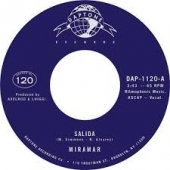 Miramar
Salida / Urgencia
Label: Daptone
Genre: Freestyle / Nu Jazz / Funk / Afro
Availability
7" €9.49

Dispatched within 5-10 working days
A "miramar" is a place from which you can see the ocean. The bolero group, Miramar, chose this word as their name to evoke a place of peace, reflection and solace for a broken heart.

Even the bolero, a romantic music born in Cuba in the 1800's, might have been conceived by the seaside. In the 50's and 60's it became the quintessential musical expression of romance in Latin America. It is this era of the music from which Miramar draws their inspiration.

"Urgencia", or "urgency", tells of the desperation a heart feels when it is swept away by romance, but risks all for fear of not having another chance at love. The flip, "Salida" means "a way out." It is a song about the surrender that comes after trying to break free from the darkest of places, of endless frustration and sadness.

The lyrics allude, but never tell. Produced by Giancarlo Luiggi & Victor Axelrod.