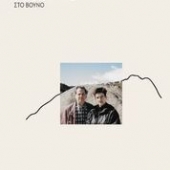 Drygianakis Costis
Chondros And Katsiani On The Mountain
Label: Rekem
Genre: Electronica / Ambient / Experimental
Back in 1998, and starting as a play on the big operas of American Minimalism (Philip Glass' Einstein on the Beach and John Adams' Nixon in China), Costis Drygianakis, together with Thanasis Chondros and Alexandra Katsiani (two thirds of the group Dimosioypalliliko Retire), devised a radio opera based on their own exotic studio travels and throughout the musics of the world. Built around an improvised libretto by Thanasis and Alexandra, Costis' work develops emphatically though with a light-hearted touch, oscillating between lengthy piano-based structures, powerful instrumental crescendos and a creative use of early digital tools. Chondros and Katsiani on the Mountain is an intricate, rich, and quietly profound piece, yet one that avoids the hybris that comes together with the notion of the "grand work". In this it stands apart from its contemporaries in 1998, as much as it does today. It also provides a high benchmark for the artists' careers, as well as for listeners invested in all sorts of sonic explorations.

Whether it be through Optical Musics, his subsequent compositional work, occasional collaborations, or his rich contemporary ethnomusicological research, Costis Drygianakis' name is nowadays firmly established within the Greek music scene and beyond. Through an equally rich trajectory, Thanasis Chondros and Alexandra Katsiani appear at times as musicians, artists or performers, maintaining a fresh and subversive approach towards artistic expression and work. One of the many non-conformist ideas that came as a result of the meeting of the two is contained in this CD. The work first appeared in Volos' Municipal Radio in 1998 and in a limited edition on Alli Poli in 2006. It is reissued here in an extensive bilingual edition containing the libretto and freshly commissioned texts.

Audio remastered by Stephan Mathieu. Accompanying texts by Areti Leopoulou, Costis Drygianakis, Thanasis Chondros and Alexandra Katsiani, Kostis Kilymis.