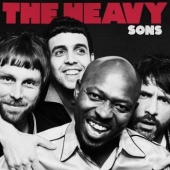 Heavy
Sons
Label: Bmg
Genre: Rock / Pop
Availability
LP 180gr+7\" €25.99

Dispatched within 5-10 working days
Formed in 2007 in the West Country and with four incredibly successful albums released via hip British indie label Ninja Tune. Having clocked up a mightily impressive 200 million streams for their previous releases, the rock and soul quartet are now set to unleash their fifth long-player via BMG, entitled Sons.

Sons takes the band's blazing, urgent and infectious sound to dizzying new heights, flitting between soul, bombastic rock, and blues in a singular package. "Sons is taking it back to the dirt and filth The Heavy are best known for......and making it better than we ever have" adds Swaby.

Having had numerous hits over the past dozen years and built an enviable worldwide fanbase, the four-piece have also performed on US TV shows such as Letterman, The Daily Show & Conan O'Brien, and played numerous major International festivals including Glastonbury, Coachella, SXSW, INmusic Festival, Fuji Rock, Hurricane Festival and T In The Park.

During the band's career, The Heavy have also not-so-quietly become one of the most sync-worthy bands in the world, with a plethora of tracks appearing in film (Dallas Buyers Club, The Hateful Eight, The Big Short and many others), television (Entourage, True Blood, Suits, Grey's Anatomy and more), movie trailers, ad's, video games and even presidential elections (Obama - not Trump). Their most ubiquitous hits being, 'How You Like Me Now?' and 'What Makes A Good Man?', which were both heard on a multitude of platforms across the world.

Limited edition, includes bonus 7".