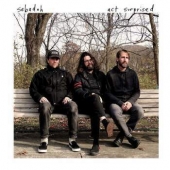 Sebadoh
Act Surprised
Label: Fire
Genre: Rock / Pop
Availability
LP + MP3 COUPON €24.99

In Stock
The inventors of lo-fi indie rock return with a 15-track blast of melodic melancholy, all delivered by the smudged middle finger of Dinosaur Jr original Lou Barlow…

"The auteur of the subterranean lovesick blues." Houston Press

Their first release with Fire Records, Lou Barlow and team return with a smorgasbord of beautifully dysfunctional tunes harking back to their finest college rock anthems.

It's Barlow at his introverted songwriting best; matter-of-factly delivering a stream of self-questioning stories, punctuated by detuned guitars, spine-tingling time changes and throwaway one liners.

A grainy post grunge postcard wrapped in bittersweet melodies with an aftertaste that's pure heartbreak.