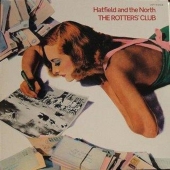 Hatfield And The North
The Rotters' Club
Label: Esoteric
Genre: 60s / 70s Rock / Pop / Progressive / Kraut
RE-MASTERED CD RELEASE FOR THE CLASSIC DEBUT ALBUM BY CANTERBURY SCENE'S FINEST with THREE BONUS TRACKS

BOOKLET WITH PHOTOS & LINER NOTES

Recorded for Virgin Records in 1974, "The Rotters' Club" was the second album by the band comprising former CARAVAN member RICHARD SINCLAIR, keyboard player DAVE STEWART, guitarist PHIL MILLER and drummer PIP PYLE. Regarded as one of the finest albums in the "Canterbury" genre, the album also featured guest appearances by such luminaries as JIMMY HASTINGS and MONT CAMPBELL.

This Esoteric Recordings reissue adds material included on the 1980 compilation "Afters" and on the "Over the Rainbow" live album from 1975.

The re-mastered reissue also includes a booklet featuring restored artwork and notes by Sid Smith.