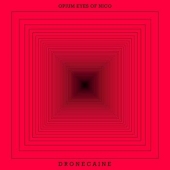 Opium Eyes Of Nico
Dronecaine
Label: Sound Effect
Genre: Post Rock / Avant Rock
First physical release for "Dronecaine", the Opium Eyes Of Nico full album! Released on limited edition vinyl via Sound Effect Records of Athens, this is a psychedelic masterpiece straight from the future! Featuring drone renditions of Beatles and Syd Barrett tracks.

Opium Eyes of Nico is a psychedelic project with two persons - Artyom Yegorov and Viktoria Perova (both play in Cosmic Letdown at the same time). The history of Opium Eyes of Nico began in year of 2009 when Artyom just started to recording music. "I had to came up with the name for my home recording sessions, - says Artyom. - Exactly at that time i was addicted (listening) to Nico. One day i stumbled upon a James Young interview about Nico in which he characterized her as follows: "She had a heavy heart. And an opium eyes". So there was the name. And a few recordings". It was an intimate music of a one person. Artyom was trying to play psychedelic music, to record demos and covers of his influences and to develop his own style in the genre of psychedelia. After that the initial idea of the project was frozen because somehow it transformed in completely different band, Cosmic Letdown. Everything changed after Viktoria joined Artem in 2014. She shared the same passion in music and had identical tastes in it. The idea of a revival was in the air after Viktoria draw a pencil logo of Opium Eyes of Nico just for fun. It led to a series of drone-like jamming sessions in C between recording first and second Cosmic Letdown albums. Later Artyom got deeper into the concept of an album, jams started to take a shape, became a songs one by one, got a richer sound palette. And Viktoria started to develop artwork for the future Dronecaine and the whole aesthetics behind that phenomenon. She joined to the sound production with Artyom and performed as a singer on two songs. "Dronecaine was recorded in the summer of 2014 like this: we were just recording tracks at our pleasure and suddenly (as if by magic) was born the concept of a drone album, which did not fit in Cosmic Letdown. So it was decided to revive Opium Eyes of Nico and to make an album of these tracks and to name it Dronecaine. The thing of this album is that almost all the guitars are tuned in the way to be in tune with sitar. In addition to everything we decided to make two covers of the songs we love in the same sitar-esque Indian way". The first single was released in October 2014, in November 2014 it was formed the home label based on the name of the project - Opium Eyes Records and the Dronecaine was released on it in February 2015. It can be said that Opium Eyes of Nico completely preferred detached psychedelic sound in comparison with Cosmic Letdown and an outsider philosophy.

Splatter vinyl, 100 copies.