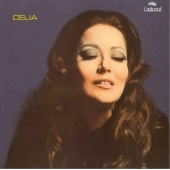 Celia
Celia
Label: Mr Bongo
Genre: Freestyle / Nu Jazz / Funk / Afro
Availability
LP €24.99

Dispatched within 5-10 working days
Other Formats
Beautiful debut album from the incredible, Célia. Conducted & arranged by Arthur Verocai and Rogério Duprat; featuring songs by Lo Borges, Antonio Adolfo and Joyce amongst others.
Célia recorded four self-titled albums for Continental between 1971 and 1977, 'Amor' in 1982 plus several more before she sadly passed away late in 2017, aged 70. This is her debut album from 1970.

Célia was a Brazilian vocalist who worked frequently with master arranger-composer Arthur Verocai in her early years and many other heavyweights over the course of her extensive career. Joyce was particularly supportive in the making of this album, writing the beautiful "Abrace Paul McCartney" and her husband at the time, Nelson Ângelo, recorded some of the songs.
Features an exclusive insert of a translated interview with Celia, completed in 2011 in her hometown of São Paulo. Focusing, in particular on her recording work with Arthur Verocai, it showcases her wonderful sense of humour and how she was embracing her new legion of fans, particularly in the world of hip hop.