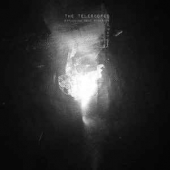 Telescopes
Exploding Head Syndrome
Label: Tapete
Genre: Post Rock / Avant Rock
Availability
CD Digi / Cardboard €15.49

Out of Stock
Exploding Head Syndrome is a snapping into consciousness, a synaptic batch of analogue dissonance and a complex undercurrent of pulsing minimalism, profound in its simplicity.

A static haze of electronic distortion drifts in and out of lucidity. Lawrie's trance induced visions, which hang suspended, fractured at the core, until completely enveloped by the gathering swarm.

Welcome to the 11th studio album from The Telescopes, their third for wallpaper. Consisting of eight new songs and incantations that form a series of sonic convulsions stretching the parameters of intuitive composition to the point of auditory illusion.

Conceived in 1987, The Telescopes emerged as innovators in the field of melodic noise, becoming a critical inspiration to a multitude of artists and listeners alike. The group has a revolving line up centered around lead protagonist and founding instigator Stephen Lawrie.

The End * Exploding Head Syndrome was created by Lawrie himself while immersed in solitude deep in West Yorkshire.

As the title suggests, this is the beginning of the story. Previous albums for tapes have set a parallel course between song-based structures and freeform impressionism, Exploding Head Syndrome employs almost traditional songwriting techniques to achieve a melodic swirl of simplistic refrains capable of lulling the listener into vast sonic dimensions.

In the 1700s William Herschel defines a telescope as an instrument through which a person may view 'beyond the realm of natural vision'. This is the mantra of The Telescopes.

* Until The End was co-written with Chris Plavidal (Stumptone) and is dedicated to the late Nevada Hill (Bludded Head).

Exploding Head Syndrome (EHS) is the name given by John. MS Pearce in 1989 to a phenomena described by Robert Armstrong-Jones in 1920 as 'snapping of the brain'. It is a condition in which a person experiences unreal noises.

The front sleeve holds an image in a breeze. A natural light phenomena at the time the photographer was taken gives the illusion of a face.