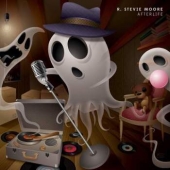 Moore R. Stevie
Afterlife
Label: Bar None
Genre: Rock / Pop
- Mastered by KRAMER at Noise Miami.
- Guest appearances by Ariel Pink, Jason Falkner, Lane Steinberg and Irwin Chusid.
- A leader in the field of outsider music, The New York Times dubbed R. Stevie Moore a "lo-fi legend"


This guy again. The Godfather of DIY home recording. Hundreds of self-released albums over the past 50 years. Dozens issued on countless indie labels since 1976. Pop craftsman, crafty grandpop, notorious curmudgeon. Blah blah blah blah blah. Most recently teamed with Jason Falkner on the album Make It Be (Bar/None, 2017).

Since R. Stevie can't make a decent living on his music, he's trying to accomplish the task in the Afterlife. This album is an upgrade from the lo-fi, damaged-equipment home recording process for which RSM has become legendary. With a career-long sweep, R. Stevie took some of his best home-recorded lo-fi songs and re-recorded them with full-studio sparkle. All recordings were made in the past 15 years, with tracks captured in five U.S. states. Some compositions date from the 1970s to the 1990s, and there's a few newer tunes. The album lacks one thing: filler. Lou Reed famously said about his final Velvet Underground album: "I gave them an album loaded with hits," then he walked away. Afterlife is R. Stevie's Loaded—an album full of hits. He's walking away with a cane, a bum knee, and cataracts.

Afterlife was compiled and produced by Irwin Chusid (who oversees the musical estates of Sun Ra, Raymond Scott, and others). Chusid, a WFMU DJ since 1975, has been a compatriot of RSM since they met in 1978 after R. Stevie relocated to New Jersey from his native Nashville (to which he returned in 2010). It's often been pointed out that RSM's daddy Bob played bass with Elvis. But we won't dwell on that here.

Afterlife features sideman work by Ariel Pink, Jason Falkner, Lane Steinberg, and Chusid. It was mastered by veteran producer-musician Kramer (who has previously recorded with RSM). There's a biopic in the works. It's called Cool Daddio: The Second Youth of R. Stevie Moore (Spring Films), and with luck it might hit the cinema circuit in 2019.

R. Stevie will not be touring to promote this album. He's sick of traveling, his misanthropy's been acting up, and he prefers the comforts of his messy nest. But he will talk to journalists on the phone or via email. Just don't ask about his daddy. It's a worn-out topic. Sorry we brought it up.