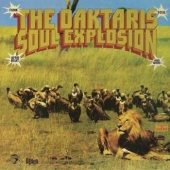 Daktaris
Soul Explosion
Label: Daptone
Genre: Freestyle / Nu Jazz / Funk / Afro
Availability
LP €18.99

Dispatched within 5-10 working days
• Originally released on DESCO RECORDS in the 1998, has been out of print for years.
• The spirit of the late, great Fela Kuti runs through The Daktaris' Soul Explosion. –– Jazz Times
• FULLY REMASTERED, including new bonus track, "In the Middle."
- Extensive new liner notes by BOSCO MANN explaining the real story behind The Daktaris
• Features members of The DAP-KINGS and ANTIBALAS. And JOJO KUO (drummer for FELA KUTI) on vox and percussion.

The Daktaris is a well-disciplined army of two hundred African Bull Elephants marching relentlessly up your business to the beat from Funky Drummer. Or so began the liner notes on the original pressing of this album.
Truth is often stranger than fiction. In 1998 Desco Records—a precursor to Daptone and Soul Fire records—released The Daktaris' Soul Explosion, ostensibly as a reissue of an unearthed Nigerian LP from the seventies. Though it's now common knowledge that the story was a bit of a hoax, the record's significance as a seminal part of the Afrobeat and afro-funk renaissance of the last two decades cannot be denied. The roots of the Budos Band, Antibalas, and uncountable others can be traced back to this enigmatic afro-funk release.

Now, two decades later, Daptone has remastered the album from the original tapes, including a bonus track that had previously only been available on a 45, and featuring extensive all new liner notes by Bosco Mann telling the bizarre true story behind the Daktaris sessions.