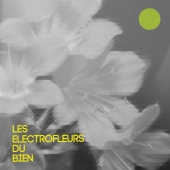 Various Artists
Les Electrofleurs Du Bien / Fleurs Vertes & Fleurs Rouges
Label: Gross Diskos
Genre: Electronica / Ambient / Experimental
Les Electrofleurs Du Bien are the flowers of g(o)odness, the scent of revenge of the (positive) force. It is the unification of 20 artists with electronic minds, swimming together playfully in a previously undiscovered sonic beach that is Gross Diskos. It is a bunch of flowers for the ears, to smell and indulge, melting back in deep pleasure. Shifting focus in and out of fractal dimensions that collide into an aural rainbow impatiently raining gifts of the electro gods upon us!

The physical object is a sonic flower bunch of two coloured tapes with distinctive tracklists and 20 awesome artists of electronica supreme from Greece's finest to treasures from the UK, New Zealand and Germany & beyond! Unity!

Come join Gross Diskos celebrate its virgin release in this introductory super friendly price of 10 euros for the two-tape-sonic flower bunch, plus Gross Diskos pin & sticker & individual download codes for each tape!

Two slabs of electronic flower power surfing on sine waves, sold as two tapes in one!