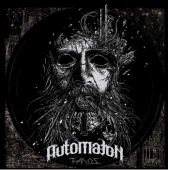 Automaton
Talos
Label: Sound Effect
Genre: Stoner / Post Metal / Industrial Rock
Availability
CD Digi / Cardboard €11.99

In Stock
What if Talos, the mythical metal giant of Crete and archetype automaton, awakens in the modern era to fight injustice and protect the innocent? This is the narrative of Automaton's second full length release (due out on November 16th via Sound Effect Records), a carefully crafted concept album spanning 48 minutes in which Talos spreads pure catastrophe.

Dark and dangerous, with a cinematic quality that rises throughout their relentless groove and into the fabric of their cold, ever-expanding universe, "Talos" offers some outstanding doom/drone thrills, exploring at the same time the boundaries of the genre: heavy guitars, psychedelic black metal, sludge and drone elements merge seamlessly, while a very special guest, the legend of traditional Cretan music Psarantonis, sings and plays the lyra on the key track Talos Awakens (Ο Τάλως ξυπνά). If Automaton's debut album "Echoes of Mount Ida" provided the setting, now "Talos" is where the real action is!

Recorded at Electric Zen Studios Athens, June 2017. Produced by Automaton and Mike Kavvadias. Engineered and mixed by George Leodis. Mastered by Brad Boatwright at Audiosiege Studio.