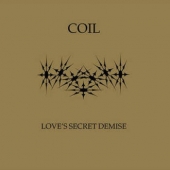 Coil
Love's Secret Demise
Label: Mythras
Genre: Industrial / Post Industrial / Experimental
Availability
CD Digi / Cardboard €17.49

Dispatched within 5-10 working days
These recordings were initially titled 'The Side Effects of Life', which was a working title for

COIL's legendary album "Love's Secret Domain".

The music presented here are demos / mixes of material that was later released as the

"Love's Secret Domain" album and includes parts of the "Wrong Eye/Scope" 7"-single.

The original cassette (only a handful are known to exist) was sent to WaxTrax! records in

1989 ahead of the planned future release of "Love's Secret Domain" on the label. The

track 'Fidget' was subsequently released on the "WaxTrax!Sampler#2" cassette in 1989.

The album was finally released by Torso (Europe) and Wax Trax! (USA) in 1991.

These recordings and mixes are incredibly rare, and demonstrate Coild working towards

the final pieces that would make up "Love's Secret Domain".