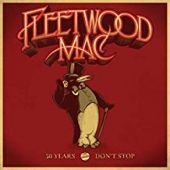 Fleetwood Mac
50 Years - Don't Stop
Label: Warner
Genre: 60s / 70s Rock / Pop / Progressive / Kraut
Availability
CD x3 €18.99

Dispatched within 5-10 working days
Fleetwood Mac will celebrate a half century of music this autumn with a new 50 song collection that is the first to explore the group's entire career, from their early days playing the blues, to their global success as one of the most-enduring and best-selling bands in rock history.

The new compilation touches on every era in the band's rich history and offers a deep dive into Fleetwood Mac's expansive catalogue by bringing together essential tracks released between 1968 and 2013. '50 YEARS—DON'T STOP' also highlights the talented musicians who have recorded under the Fleetwood Mac banner over the years, including Peter Green, Mick Fleetwood, Jeremy Spencer, John McVie, Danny Kirwan, Christine McVie, Bob Welch, Bob Weston, Lindsey Buckingham, Stevie Nicks, Billy Burnette, Rick Vito, Dave Mason and Bekka Bramlett. The collection also features rare photos from the band's career along with new liner notes by veteran music writer David Wild.

The first disc revisits Fleetwood Mac's early years as a blues-rock combo, a six-year period that began in 1968 with the band's self-titled debut and ended in 1974 with its ninth studio album, 'Heroes Are Hard To Find'. Many of the songs featured here were Top Ten hits in the UK, including 'Man Of The World', 'Oh Well – Pt. 1', 'The Green Manalishi (With The Two Prong Crown)' and the #1 hit 'Albatross'.

The second disc focuses on Fleetwood Mac's most commercially successful period with music from a trio of multi-platinum releases – 'Fleetwood Mac' (1975), 'Rumours' (1977) and 'Tusk' (1979) – plus the acclaimed concert album 'Live' (1980). Together they've sold millions of copies worldwide, with 'Rumours' alone selling more than 40 million copies. Several of the band's most beloved tracks come from these albums including 'Rhiannon', 'Say You Love Me', 'Go Your Own Way', 'Don't Stop', 'You Make Loving Fun' and the #1 single 'Dreams'.

The final disc explores songs the band released between 1982 and 2013, including major US hits like 'Hold Me' (#4), 'Gypsy' (#12), 'Big Love' (#5), 'Little Lies' (#4), and 'Everywhere' (#14). Also featured are several rarities ('Paper Doll' and 'As Long As You Follow'); a live version of 'Silver Springs' from the multi-platinum concert album 'The Dance' (1997); and 'Sad Angel' from the band's most recent release 'Extended Play' (2013).