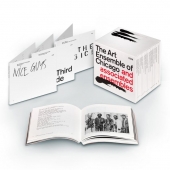 Art Ensemble Of Chicago
Art Ensemble Of Chicago And Associated Ensembles
Label: Ecm
Genre: Jazz / Avant Garde
Availability
CD x21 BOX €107.99

In Stock
THE ART ENSEMBLE OF CHICAGO AND ASSOCIATED ENSEMBLES is a 21-CD limited and numbered edition issued as the standard-bearers of Great Black Music prepare to celebrate their 50th anniversary. Both the Art Ensemble of Chicago and ECM Records were founded in 1969, and there have been many shared experiences. As Roscoe Mitchell says, "It has been amazing to have taken this journey together."

With their first ECM album, the widely-acclaimed Nice Guys, the Art Ensemble's revolutionary and polystylistic "ancient to the future" mix of musics - from the deeply spiritual to the fiercely experimental - was illuminated in new detail in Manfred Eicher's panoramic production, and the stage set for many adventures to follow. These included the albums Full Force, Urban Bushmen, and The Third Decade with the classic AEC quintet line up of Roscoe Mitchell, Joseph Jarman, Lester Bowie, Malachi Favors Maghostut and Famoudou Don Moye. All of Bowie's and Mitchell's subsequent ECM recordings are also gathered together here. Charismatic trumpeter Lester Bowie is heard here with his Brass Fantasy group, with Wadada Leo Smith and with Jack DeJohnette. Multi-reed master and primary AEC conceptualist Roscoe Mitchell appears with his Note Factory band, with the Transatlantic Art Ensemble co-founded with Evan Parker, and with an historic trios project recorded at Chicago's Museum of Contemporary Art. Along the way, numerous distinguished creative musicians make appearances – the long list includes Muhal Richard Abrams, Henry Threadgill, Craig Taborn, Vijay Iyer, Matthew Shipp, Tyshawn Sorey, Fontella Bass, Charlie Haden, Kenny Wheeler, Corey Wilkes, Gerald Cleaver, Phillip Wilson, George Lewis, William Parker, John Abercrombie, Eddie Gomez, and many others, in ECM recordings made between 1978 and 2015.

This beautifully-designed box set incorporates a 300-page book reprising all original album covers, liner notes and poetry (by Joseph Jarman), as well as quotes from Art Ensemble members and the press, new texts by Craig Taborn, Vijay Iyer and George Lewis, a preface by Manfred Eicher, and an introduction by Steve Lake. Plus: many photographs (some previously unpublished), archival documents, and more.