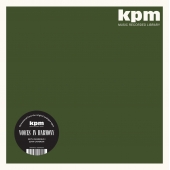 Mansfield Keith / Cameron John
Voices In Harmony
Label: Be With Records
Genre: 60s / 70s Rock / Pop / Progressive / Kraut
Availability
LP 180gr €23.99

Dispatched within 5-10 working days
Voices In Harmony was released in 1973 as "a selection of contemporary pop titles featuring voices, brass and rhythm". We choose to describe this collection of works by Keith Mansfield and John Cameron as "a string-laced, harmony-drenched KPM classic".

From the bright, lilting harmonies of "Liquid Sunshine" to the melting flutes of "Loving Touch" and "Gentle Persuasion", this is warm, effervescent soul music for dreamy, idyllic moods. The supreme "Husky Birdsong" is so, so smooth, with its unrelenting bossa bassline and warm keyboards. "Half Forgotten Daydreams" is a gorgeous wordless groove.

As with all ten re-issues, the audio for Voices In Harmony comes from the original analogue tapes and has been remastered for vinyl by Be With regular Simon Francis. We've taken the same care with the sleeves, handing the reproduction duties over to Richard Robinson, the current custodian of KPM's brand identity.