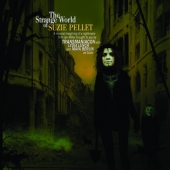 Transmaniacon Feat. Lunch Lydia & Berlin Maya
The Strange World Of Suzie Pellet
Label: New Heavy Sounds
Genre: Rock / Pop
Availability
CD Digi / Cardboard €11.99

In Stock
The Strange World of Suzie Pellet' is a hard rocking concept album featuring a dark, unsettling and mysterious tale of future street dweller Suzie Pellet. A feisty survivor in a ruined world, Suzie is the brainchild of Ian Miller, fantasy/horror artist and novelist. His surreal. nightmarish creations have graced book covers, graphic novels and films, and have given form to the works of HP Lovecraft, Tolkien and many more.

Now, one of his own dark gothic characters comes to life. Not unlike Michael Moorcock guiding Hawkwind or Sandy Pearlman, The Blue Oyster Cult, or even a cranked up Moody Blues or Who, Transmaniacon bring Miller'svision to sonic life, aided and abetted by the outstanding vocal deliveries of punk poetess and avant rocker Lydia Lunch (a hind-sighted Suzie) and Maya Berlin (a future 'present-day' Suzie). Sci-fi and space rock has always been present in Transmaniacon, a previous incarnation was XM3a who released the first New Heavy Sounds single, 'Bad Robot Man', an epic 9 min acid rock riff-fest. This was followed up (as Transmaniacon) by 'The Darkening Plain' their first concept piece containing the 25 min classic 'Quintessence of Dust' - bleak, dense, forboding, and heavy. - a sort of Killing Joke/Hawkwind/Pentagram hybrid which featured the first collaboration with Lydia Lunch. But with 'Suzie Pellet' Transmaniacon becomes more a musical collective. The core of the band remains, hard and heavy riffing guitars, overdriven Hammond Organ (and this time synth) but with the addition of Tom (Uncle Acid/Limb) Mowforth on drums they are a groovier, more athletic 70's rock beast. The twin heavyweights of Blue Oyster Cult and Mountain loom large, but this time with the added groove of an an organ-driven Black Mountain. Suzie Pellet is Transmaniacon's first true collaboration with Ian Miller. Miller resurrected his post apocalyptic tale of street survivor Suzie Pellet in a rotten and derelict London-esque urban-scape called Duht. Transmaniacon have taken and expanded Miller's vision into a story in which Pellet herself, describes the dark, underworld, its characters and situations, friends and foes, all in grisly-spoken and sung diary-like, excerpts.

Lydia Lunch was an obvious choice for the mature Pellet. A survivor of numerous underground scenes herself from punk and no-wave through noise, avant-rock and, appropriately enough here, spoken word. In 1975 Patti Smith perhaps could have been a young Susie Pellet, in 93 Polly Harvey, but now the role falls to Maya Berlin. With her band, Cold in Berlin delivering equal parts Punk, Doom and Goth over their three highly acclaimed albums (including 'The Comfort of Loss and Dust on Candlelight Records), she was perfect. And Suzie gives her the opportunity to expand her vocal (and theatrical) talents in Grace Slick or Julie Driscoll or even Chelsea Wolfe directions. Step into the nightmare world of Suzie Pellet.