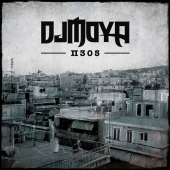 Dj Moya
P305
Label: Mind The Wax
Genre: Freestyle / Nu Jazz / Funk / Afro
Π305 is the first solo album of DJ Moya, a Turntablist and Beatmaker from Greece.
The production of Π305 is based on sampling and on turntablism. It's inspired by the Hip-Hop philosophy with characteristic heavy beats, dark melodies and chopped samples. At the same time, it introduces to the audience Moya's Funk and Trip-Hop influences.
His track "Who's to blame" with the participation of Martzi, it will be released also in a video clip from his YouTube channel.
The album was initially released as a Beat Tape on Internet and as of November 2018 it's available on a special edition vinyl with 2 additional tracks.

By this time, DJ Moya has released a lot of Hip-Hop, Trip-Hop and Funky mixtapes and he has contributed in many music productions. He has participated in plenty releases as a Scratch DJ fo6r Hip-Hop bands as The Crows, Xnaria, Lyrical Punishment, Active Member and many others. Furthermore he has performed live and shared the stage with worldwide famous artists as Public Enemy, Dead Prez, Rodney P, DJ Skitz and others.

DJ Moya is active in the discography since 2007 with the release of a vinyl record tool for DJs, called "Favlos Kyklos (Vicious Cycle) Vol. ||" as his own independent production.