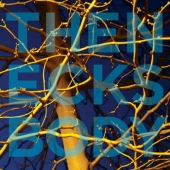 Necks
Body
Label: Rer
Genre: Jazz / Avant Garde
Availability
CD Digi / Cardboard €16.99

In Stock
Australia's greatest cult band, The Necks, has a new piece to offer the world this summer, entitled "Body". Different again to all previous Necks albums (20 in total), the band has chosen 10 words and phrases that summarize the four richly contrasting episodes of this hour-long, mesmerizing groove. They are as follows: Episodic, Driving, Dynamic, Layered, Celebratory, Soaring, Rocking out, Buoyant, Sustained, Perfectly paced.

The album uses, yet again, the combination of Chris Abrahams (piano, keyboards) Tony Buck (drums, percussion, and guitar very much to the fore on this one) and Lloyd Swanton (acoustic bass) with Tim Whitten (engineer), who has recorded and/or mixed the last twelve Necks albums. The Necks hold their own with the best of them when it comes to rhythmic complexity, but they have put much of that to one side for this album in the interests of conjuring their most relentlessly driving album since Hanging GardensAlthough it's their 20th release to date, the band continues to evolve, each release taken as another opportunity to test not one but a subtle suite of fresh ideas, including, on this record, an element of shock! At the same time they remain steadfast in their exploration of the single overarching structural idea that has informed their work from the beginning - an imperceptible and organic modulation of quasi-interdependent musical entities; it's one of the few genuinely innovative ideas to emerge from the world of western music (in any genre) over the last 30 years. And it is so distinct - and so linked to these specific performers' personal sensibilities - that no one has attempted to follow. It's a very particular combination of patience, temperament, quiet virtuosity, economy and concentration - coupled with a unique understanding of experienced time - that has made the NECKS one of only a handful of original voices working in music today.

With the NECKS there is no path and nothing but path; that's a fiendishly difficult combination to pull off, especially with such unassuming virtuosity.