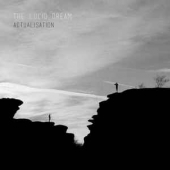 Lucid Dream
Actualisation
Label: Holy Are You
Genre: Post Rock / Avant Rock
Availability
LP €19.99

Dispatched within 5-10 working days
'they've quietly found themselves elevated into the psych scenes premier league.' Drowned In Sound

'when they go pedal-to-metal it rarely fails.' Mojo Magazine

'The Lucid Dream are rapidly becoming major players in an ever-increasingly crowded psych scene..utterly seductive.' The Quietus

'one of the most enthralling bands in the UK.' Far Out Magazine

The Lucid Dream return in October with the release of their 4th album, 'Actualisation'.
Driven by fans raising £10,000 to help replace all equipment robbed after a Paris show in early 2017, a new album became the instant focus in the summer of 2017 for a rejuvenated The Lucid Dream.

'Actualisation' is soaked in the influence of acid house, amalgamated with dub and kosmische. It will again see them acknowledged for venturing into pastures new, setting themselves apart from 'genres', 'scenes' or what any other act are currently doing.

The album was penned over the summer of 2017 by Mark Emmerson (vocals/guitar/synths), using only the classic Roland 303/808 synths, bass and vocals as tools for writing. Inspiration for the writing was formed via continuous listening to the Chicago to UK acid house works of 1986-1992, the focus predominantly on the groove.
Several months on from those writing sessions and The Lucid Dream have completed their 4th album in 5 years. A record made for the dancefloor.


Recorded at Whitewood Studios, Liverpool, with Rob Whiteley, the album is produced alongside long-time collaborator Ross Halden (Ghost Town Studios, Leeds), with mastering via Dean Honer (All Seeing I/I Monster/The Moonlandingz).

The confrontational techno-punk of 'Alone In Fear' opens the album, a 9-minute attack fuelled by the frustration and anger spawned by Brexit, government and a realisation of what 2018 Britain currently is.
Recent single 'SX1000' (the first work from the album, unveiled via 12' vinyl in April this year) is the band's first move into pure acid house. The acid house fusion runs throughout the record, represented furthermore by 'Ardency', a track already praised by live critics when aired live for the first time earlier this year as 'even on first hearing, would've raised the roof of The Hacienda'.

The 2-part opus of 'Zenith' follows, commencing with a space-dub/house instrumental groove before building into a track that will go for your head as much as your hips. Only 'Breakdown' harks back to sounds of old for the band, a little reminder of the skull-crushing impact they can make when stripped to the bare bones. 'No Sunlight Dub' closes the album, a dark-dub that invites the classic acid-house tool (Roland 808) into the dub. The track makes a stop-off into drum 'n' bass/jungle along the way before rounding up in a manner suited to Lee Perry, King Tubby, Augustus Pablo and other Jamaican greats.

Coloured vinyl.