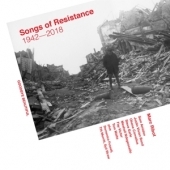 Ribot Marc
Songs Of Resistance 1942 - 2018
Label: Anti
Genre: Post Rock / Avant Rock
Availability
CD €16.99

Dispatched within 5-10 working days
"Every movement which has ever won anything has had songs" says Marc Ribot.

With 'Songs of Resistance 1948 – 2018', Ribot (one of the world's most accomplished and acclaimed guitar players) set out to assemble a set of songs that spoke to this political moment with appropriate ambition, passion, and fury.

The eleven songs on the record are drawn from the World War II anti-Fascist Italian partisans, the U.S. civil rights movement and Mexican protest ballads, as well as original compositions, and feature a wide range of guest vocalists, including Tom Waits, Steve Earle, Meshell Ndegeocello, Justin Vivian Bond, Fay Victor, Sam Amidon and Ohene Cornelius.