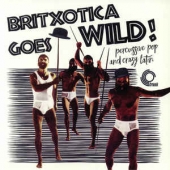 Various Artists
Britxotica Goes Wild!
Label: Trunk
Genre: Freestyle / Nu Jazz / Funk / Afro
Availability
LP €22.99

Dispatched within 5-10 working days
Volume five of the killer Britxotica! series, looking this time at 16 super rare and briliantly bonkers latin and percussive pop cues from the wild British Isles!

Britxotica! (pronounced "Britzotica") neatly describes an odd and yet undocumented pre-Beatles British musical scene where famed UK composers as well as unknown singers and bandleaders threw convention on holiday and went wild wild wild! Put together by Jonny Trunk with DJ / tastemaker and Smashing nighclub legend Martin Green, these groundbreaking new compilations shine new light on lost and forgotten corners of British culture and sound.

For this, Part Five of our planned Britxotica! series we head to lively latin tinged dancefloors where Brits could cha cha cha to the KIrchin band, "Jump In The Line" with Frank Holder and Mambo with Ido or Don. This killer collection of British dance obscurities brings us lively sounds from the rarest UK record bins, including this time an amazing cover version of the legendary loungecore hit "House Of Bamboo" plus the stunning "Jonny One Note" by Ted Heath, the track that originally introduced John Craven's Newsround. To sum up, this is another exciting, wild and occasionally bonkers compilation by Jonny Trunk and Martin Green, two of the UKs most wild record collectors. Also, there are men in underpants on the sleeve, What's not to like?