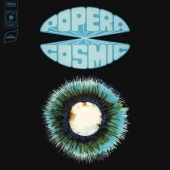 Popera Cosmic
Les Esclaves
Label: Finders Keepers
Genre: 60s / 70s Rock / Pop / Progressive / Kraut
Availability
LP €23.99

Dispatched within 5-10 working days
For the few people lucky enough to have heard the entire album in the five decades since its release, the mythical POPERA COSMIC LP is now considered to be France's first dedicated psychedelic album and the shrouded blueprint for the hugely influential Gallic concept album phenomenon that followed – including SERGE GAINSBOURG's HISTOIRE DE MELODY NELSON and GÉRARD MANSET's LA MORT D'ORION.

Spearheaded by FRANÇOIS WERTHEIMER (songwriter for VANGELIS, BARBARA and BYG RECORDS), composed with future JODOROWSKY soundtracker
and genius all-rounder GUY SKORNIK, and based on an embryonic concept co-conspired by a teenage JEAN-MICHEL JARRE, this instantly deleted 1969 recording is a true essential for any outernationalradicalised record collection.

With credentials that mark the birth of the cosmic funk (later disco) that helped shape the influential sound of France today, this LP also includes the first pressed instrumentals by members of SPACE ART, some of the best orch rock arrangements by WILLIAM SHELLER (Lux Aeterna, Eriotissimo) and orchestrator PAUL PIOT (Jean Rollin), as well as sitar psych benchmarks courtesy of uber legend SERGE FRANKLIN – all pinned down by the rhythm section that would later be known to prog aficionados as ALICE.

Subtitled LES ESCLAVES (The Slaves), this street theatre/rock opera (influenced by the work of Julien Beck's Living Theatre) now celebrates its 50th birth-day standing firmly as a sonic tome to the birth of the no-no era (that rebuked France'syé-yé" hamster wheel) leading directly to the thematic progressive network of WAKHÉVITCH, MANSET and MAGMA while comprising an inter-Gallic intergalactic super group from the early annals of France's pop psych revolution.

Imagine a rock opera where the cast of MISTER FREEDOM perform CLASH OF THE TITANS at the foot of THE HOLY MOUNTAIN – then pinch yourself...